People always complain that this or that line of their favourite show should have been translated differently, but you know what? These days, with professional translation almost always done based on a reliable script and the ability to research things on the internet, the really crazy translation errors no longer happen. Let me take you twenty years into the past, to a time when TV stations in this weird country called Poland translated based on translations of translations, and did it by ear.
This guy? You might know him as Son Goku. Well, they told us he was called Songo, and who were we to doubt that? And tough guys don't need a last name anyway.
The green alien guy? I hear people call him Piccolo, but it's obviously Satan Tiny-heart. Laugh and he'll hit you with his evil heart beam.
I have previously mentioned the poor Demon Lord Death Fog ending up as a Dead Frog in the Polish version of the Slayers, or rather Magical Warriors, as we know them. But there is more to the story.
The scene where this comes up is when Xellos gives Lina an explanation regarding the Demon Blood Talismans. In the original, he explains that the talismans hold the power of/have a connection to the four Demon Lords: Ruby Eye Shabranigdu, Dark Star Dugradigdu, Chaotic Blue and Death Fog. In the Polish version, the poor chaps end up as mere ingredients of the talismans: a ruby eye, a dark star, some chaotic blue and a dead frog.
Another memorable part of the translation concerned the Elmekia Lance spell (among others). Sometimes it would show up as-is. But a week would pass and the spell would return as Thunder Sickle, or Thunder Hammer, or Sicklehammer. There was some serious multiple personality disorder thing going on with the spells…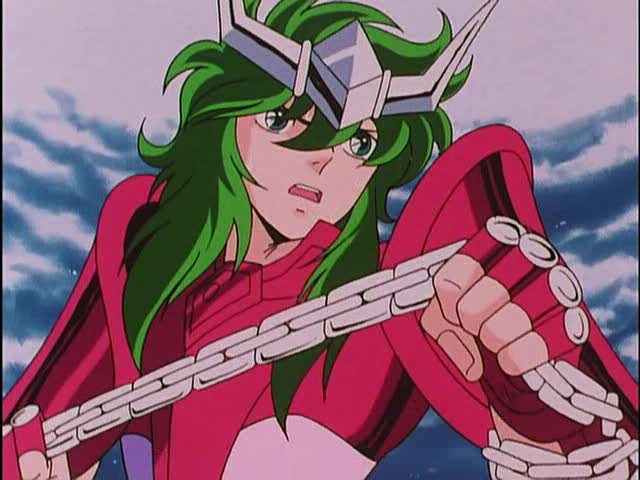 This Saint Seiya (aka Knights of the Zodiac) character had many viewers confused regarding his or her gender… and apparently, that applied to the translation staff, too. Rumour has it that Shun would switch genders between episodes depending on who was doing the translation at the time.
Saving the best for last, a true legend in the history of Polish TV translation. This Sailor Scout calls upon her magic powers to unleash a powerful Crescent Beam.
Beam, beam… it kind of sounds like "bean", right? Can't blame the translator for mishearing that one. But wait, why would a bean be crescent? That does not make any sense, better adjust the attack name to something more cohesive. Beans, beans… what goes with beans? Oh, yeah! Now behold the power of Venus:
"Peas and Beans!"
No, really.