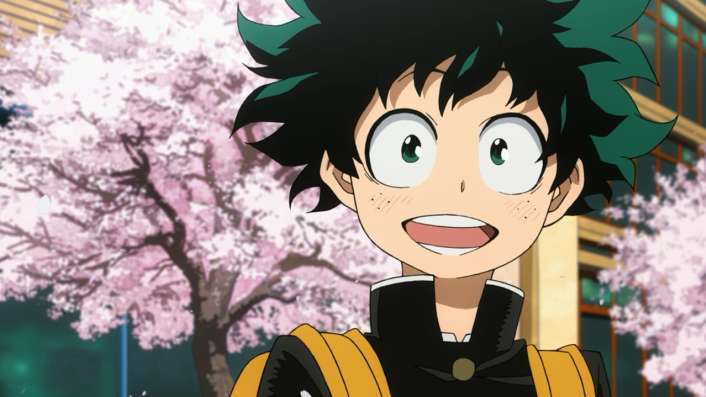 My Hero Academia is a series I struggle with. There is plenty in there to like, and there are just as many imperfections. The positives, everyone knows: the likeable and colourful characters, the mix of more Western tropes with anime aesthetics, and classic shounen action with high production values. The negatives? Me and MHA had several misunderstanding throughout the initial episodes. One of them concerned Izuku's famous line where he describes the series as "a story about how he becomes the greatest hero".
Do not get me wrong, the line mostly functions well in context. It a clearly articulated promise of a zero to hero story from a series which, as a long-running shounen, will require some time until the main character can start kicking ass. It is a refreshing step away from Izuku's usually timid nature, and possibly foreshadowing that one of the areas in which he will have to improve is his lack of self confidence. It sounds cool. It has impact.
It does not exactly fit, though. Izuku's circumstance of having inherited his powers from another means that whatever he achieves is the culmination of the efforts of several people. It seems off that Izuku would claim it is all about him at the end of the day. But that is just my approach to pride and modesty – I could accept the character reaching different conclusions. More importantly, the mechanics of Izuku's power actually make it impossible for him to become the greatest hero ever. This is because looking far into the future, Izuku's final act as a hero will be to find a worthy successor and give birth to an even greater hero. If he succeeds, he is no longer the greatest, and if he does not, that in itself is a significant failure as the holder of One For All.
But you know what? If there is one good thing I can say about this show, it is that it is constantly improving. Bakugou's one-dimensional psychotic nature recently got some nice development, while individual arcs started building on each other. And somewhere between the second and fourth cours, Izuku's introductory line also changed.
そう、これは僕が最高のヒーローになるまでの物語だ。

Yes, this is the story of how I became the greatest hero.

夢に向かって走り続ける。どんな困難に立ち向かい、笑顔で人々を救う、そんな最高のヒーローになるために!

I continue to run toward my dream, standing up to any difficulties and saving people with a smile… in order to become the greatest hero!
I borrow the subs from you-can-guess-where, and first I will address the part of the change they actually reflect. That would be the transition in focus from the final goal to the journey. As mentioned above, the declaration that "the story ends with me becoming the greatest hero" works fine as a one-liner meant to capture the viewer's attention. However, it is not entirely honest to what the series is about. The greatness Izuku seeks is a distant goal, not a foregone conclusion. The third season makes this very clear: while the great power of One For All is Izuku's promised future, it neither removes the need to make the right choices, nor does it guarantee a happy end, as Izuku learns in his confrontations with the villains. My Hero Academia is about the growth of its characters, and the show itself has grown past its attention-grab stage and can now freely admit to that focus.
Another change in the line is one the subs try to cover up the best they can in order to preserve the "greatest hero" wording. I will not hold that against the translation – consistency has a value of its own in that world. But there are obvious issues that show up with that take even if you only look at the English text. If you have seen more than half the show, you might wonder when exactly Izuku manages to "stand up to any difficulties and save people with a smile". He saves one boy – a significant event – and assists All Might and Bakugou. Other than that, Izuku spends the third season howling in pain and crying in anguish in an endless confrontation with his doubts and regrets.
Things make more sense when we realise that the "any difficulties/smile" part of the quote is not a description of Izuku's present, as the subs would have it, but part of the description of Izuku's goal – the greatest hero. Again, the avoidance in the translation is understandable. A too-honest approach might give us "…in order to become the greatest hero, who stands up to any difficulties and saves people with a smile". This sounds awkward and weak as it is a classic case of less is more. If you leave things at "the greatest hero", the audience is free to imagine all kinds of conditions the perfect hero will meet. If you add two of your own conditions, people will start to wonder: "wait, is that enough to become the greatest hero?". It almost seems better to avoid this phrasing, except the transition is more than an awkward artistic choice.
Now, note that Japanese has no comparative and superlative. That is just not part of the grammar. If you want to compare things or point to something being "the most", you add words that have that meaning. And yes, "saikou" is one of those words that can point to a superlative meaning: saikou ni utsukushii "supremely beautiful". The thing is, the range of meaning is wider than that of the superlative. When we say saikou ni tanoshikatta, it is just a way of stressing that we had great fun. "The most fun I've ever had" would be a forced translation which tries to retain the superlative.
So the opening line might refer to great heroes rather than the greatest hero, an interpretation which is cemented by the appearance of an additional word in the new opening line, that being sonna そんな. The word (as well as its full form sono you na) means something along the lines of "like that/of that kind". It points to the existence of a group or type of the "greatest". In short, the new opening line goes like this: "I continue to run toward my dream: to become somebody who stands up to any difficulties and saves people with a smile, a true hero".
This new line is much more in tune with what the third season presents us with. Of special note is the scene in which Endeavor unwittingly becomes the "greatest hero". A victim of circumstance more than anything else, Endeavor is deeply frustrated with being given the number one without achieving what he really strived for. This reveals how meaningless a singular "greatest hero" is in the context of this series. Further yet, this interpretation empowers the numerous side stories of the other hero candidates highlighted in the series. An universal, if universally difficult, call to greatness means that both Izuku and his colleagues are challenged to move forward and grow stronger until they all embody their ideals.
Somewhere between the lines, My Hero Academia continues to shift and evolve, and so I have hope we can one day be reconciled.